AAHA = Amicale Alexandrie Hier et Aujourd'hui : www.aaha.ch

AAHA-USA (California chapter) - 2009

Saturday, April 18th, 2009, at 12.00 noon

at the "Sunnin Lebanese Cafe"

Belmont Shores, 5110 East 2nd Street, Long Beach, CA 90803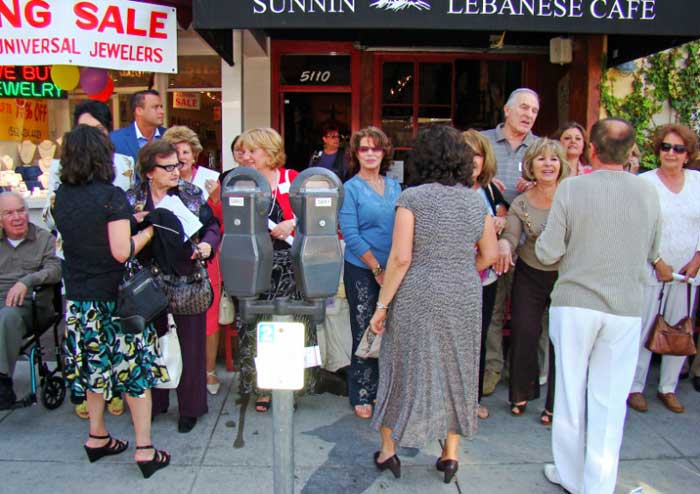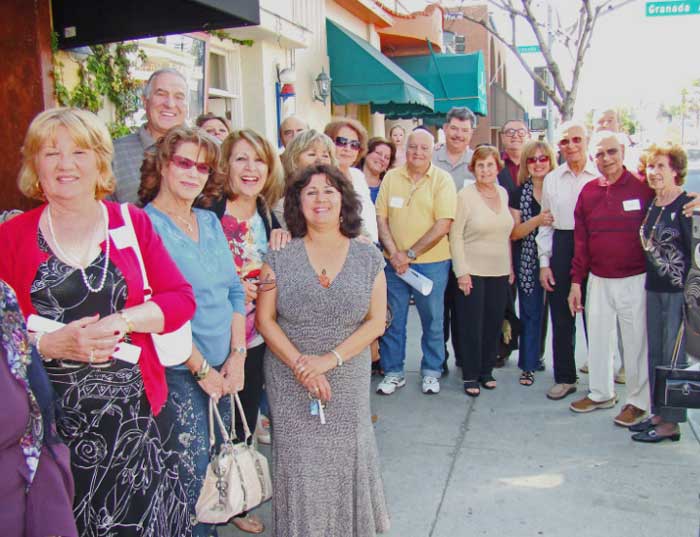 Photo 1 : from l > r : Sonia Voegele-Adomian, Edmond Zoghaib. Rose Chawki, Robert and Mona Gennawey, Irena and Vassilis Kageorgis, Nabila and Moustapha Elagizy,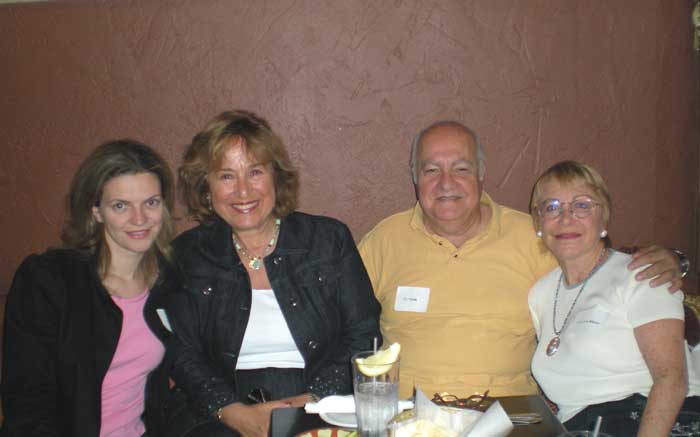 Photo 2 : from l > r : Ludivine Forte, Shelly Braver-Motro, Eliot Forte, Huguette Wilson-Salmona
Photo 3 : from l > r : Dan and Shelly Braver-Motro, Eliot Forte, Huguette Wilson-Salmona, Ludivine Forte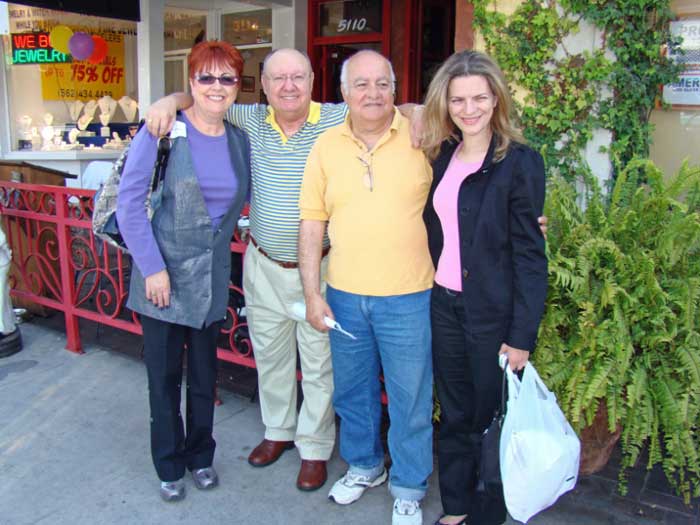 Photo 4 : from l > r : Cyndi and Henry (Rico) Fakhoury, Eliot and Ludivine Forte
Photo 5 : from l > r : Ludivine Forte, Henry (Rico) Fakhoury, Napoléon (Nappy) Awad
Attendees (41) :
May Abagi-Ackaoui, Joe and Nanda Anawati, Edward Atamian, Napoléon Awad, Menes and Madeleine Bishara, Ozzy and Nella Bishara, Shelly and Dan Braver-Motro, Colette and Darren Chaker, Janine Chaker, Rose Chawki, Raymond and Sally Dabbah, Isis Dib-Azizi, Moustapha and Nabila Elagizy, Henry and Cyndi Fakhoury, Eliot and Ludivine Forte, Robert and Mona Gennawey, Marguerite Hanna-Eid, Viviane and Chaker Hebri, Leon and Lola Kachami-Zogheb, Vassilis and Irena Kageorgis, Magda Karroum-Eid, Sonia Karroum-Eid, Roger and Ferial Nahas, Naima Salem, Sonia Voegele-Adomian, Huguette Wilson-Salmona, Simone Yalouz, Edmond Zoghaib.
AMAZING ENCOUNTERS.
Some time ago, Shelly Braver-Motro sent me an email to introduce me to an
Eliot Forté. She said that he belonged to AAHA-Paris and had just moved to
Los Angeles and would like to join our AAHA-Los Angeles Chapter.
I immediately sent a welcoming email to Eliot.
Few days later I received an email from him, asking me if I lived in Sidi Gaber
On Rue Dara, I had goose bumps just reading. His Sister that lives in Israel
Told him to ask me that question as she remembers that there was a Fakhouri
Family that lived in the next building. Tears started to flow down my cheeks.
I quickly responded to Eliot confirming that it was my Family. We then
Exchanged phone numbers and talked on the phone several times. It was
Such a pleasure to see him along with his lovely Daughter Ludivine at our
Luncheon, it was an emotional encounter after 53 years since we last seen
Each other in Alexandria. Thank you Shelly for the introduction.
Huguette Wilson–Salmona That I have known via telephone since we started
AAHA - Los Angeles Chapter.The name Salmona meant something to me.
I asked her where she lived in Alexandria, her answer was "we lived at
Sporting, across from the Sporting Club". I started getting some flash back
I quickly asked her if she knew Ralph and Eddy Salmona? She said those are
My brothers. I could not believe my ear, I started asking her lots of questions
About them and their where about. She sadly informed me that Eddy the older of the
Group passed away 5 years ago in Sao Paolo, Brazil. And that Ralph lives in
Brazilia, Brazil. Ralph was one of my best friends while growing up in Alexandria
We were a group of youngsters that got together on Saturday night along with our
Girlfriends and go dancing. That group included Roger Bilboul (London) and
Jean-Paul Bouval (Belgium). I am now in constant contact via email with Ralph.
Thanks to his Sister Huguette.
I want to take a moment to thank AAHA for making this happen.
Rico Fakhoury
- - - - - - - - - - - - - - - - - -
Saturday, November 21, 2009, at 12.00 noon
at the "Carousel lebanese Restaurant"
304 NO Brand Blvd, Glendale, CA 91203, tel 818 246 7775.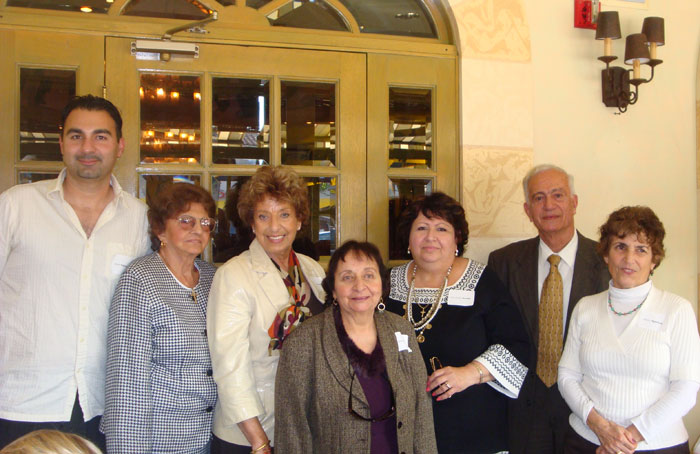 Photo 6 (the newcommers) : from l > r : Mark Fakhoury, Vicky Doumar, Suzy Asad, Mary Khoury, Claudette Mesiha, George Khoury, Mary Apelian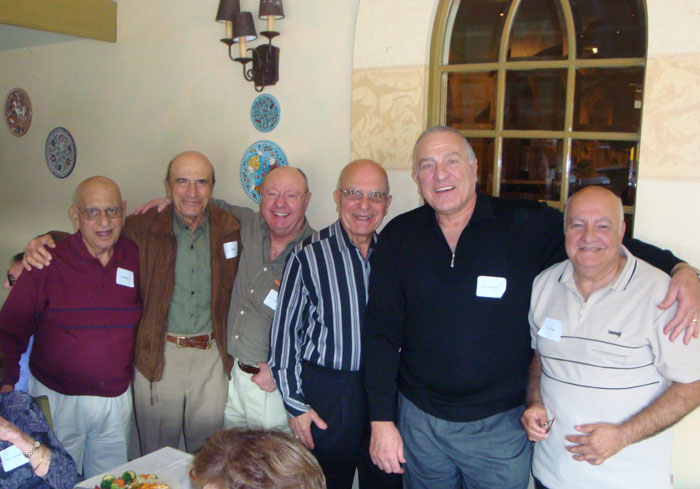 Photo 7 (El Fetouwat) : from l > r : Osi Bichara, Roger Nahas, Rico Fakhoury, Menes Bichara, Joe Anawati, Eliot Forte
Photo 8 : from l > r : Eliot Forte, Shelly Braver-Motro, Huguette Wilson-Salmona
Photo 9 : from l > r : Henry (Rico) Fakhoury, Sonia Voegele-Adomian, Joe Anawati, Naima Salem
Photo 10 : from l > r : Joe Anawati, Shelly Braver-Motro, Henry (Rico) Fakhoury
Gina Aloisi, Eliot Forte, Huguette Wilson-Salmona
We had 34 people in attendance from original 44 confirmed due to no shows and illness, we had 7 new Members. The food was superior in quality and quantity. We started with cold mezzas, wich included hummus, bab ghanouj, kebbeh nayeh, muhamarah, tabouleh, fettah cheese and cucumbers, olives, carrots. The hot mezzah included soujuk (armenian sausage), Kebbeh balls, fatayer (cheese boreg), pan fried. As for the entrée we had beef kefta ,chiken breast kebab, and filet shish kebab along with soft drinks, arabic coffee and hot tea and for desserts we had baklava and basma. Needles to say that all the attendees were raving about the food and the service provided by the Carousel Restaurant Management especially Mr. Michel Schoucair the restaurant manager. My opening remarks were to thank everyone for their attendance and recognize all the new comers by name. Acknowledging the distance that our Los Angeles Chapter covers form Santa Barbara to San Diego I was grateful to mention the presence of Shelly Braver from San Diego to the Bisharas from near Santa Barbara and all in between from Santa Monica, Culver City, Orange County, Temecula and Chula Vista. I gave the floor to Shelly Braver and she discussed the possibility to organize with our Chapter in addition to the New York and Washington a trip that will take us to Alexandria and visit all the new resort areas or a cruise that will take us to Alexandria, Haifa, Turkey and the Greek Islands. She received a very favourable response from the attendees. We let Osi Bishara start the jokes parade, unfortunately we were not able to stop him, we finally had to drag him out to let other say their jokes. As usual it was a great get together we could feel the camaraderie and the spirit of Alexandria .
We are all looking forward to our next Luncheon.
Rico.
AAHA = Amicale Alexandrie Hier et Aujourd'hui : www.aaha.ch