Dinner at Alfio's, Saturday 19th, October 2013
Alfio's Trattoria, (301) 657-9133 4515 Willard Avenue, Chevy Chase, MD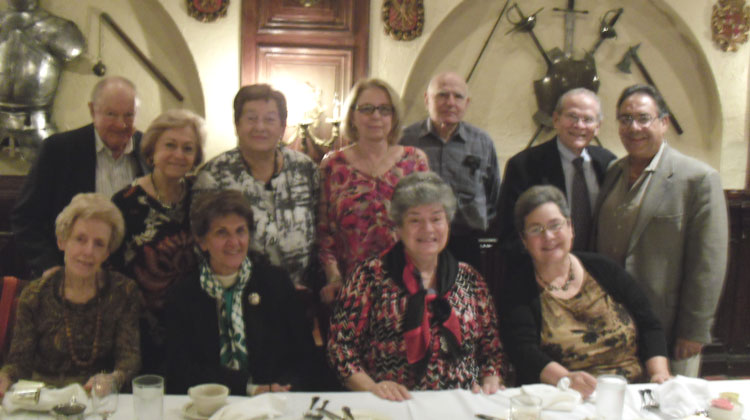 Thanks to Marlène Barki Lesley, a few members of the Washington Metropolitan AAHA Group joined in and were reunited on October 19th in the elegant party room of Alfio's Trattoria Restaurant, Chevy Chase, Maryland.
The attendees were: Marlène (Barki) Lesley; Liliana (Cohen) Brown; Viviane (Maschoieff) Pescov & Irwin Pescov; Joan (Vernikos) Hazan; Michèle (Hindi) Alexander; Sonia (Khoury) Mahlouf & Rene Mahlouf; Eliane (Klat) Kasteloot; Simone (Samuel) Shofer & Ralph Shofer; Sheila (Jabes) Tucker; Élie Pallia; Jackie (Hirsh) & Herbert Samuel
After the appetizers and wines, the group enjoyed a delicious dinner composed of a choice of different entrees.
Marlene (Barki) Lesley welcomed everyone and asked the AAHA Group to introduce themselves and share, if they liked, their growing up in Alexandria or any travel they enjoyed this past summer.
Viviane(Maschoieff) Pescov (Lycee Francais) took a moment to remember a Dear Friend, Raymond Levy, who passed away recently in Sao Paulo, Brazil. Raymond was the husband of Lisette Solal Levy. Both Raymond & Lisette grew up in Alexandria where they were married in June 1956 (57 yrs). They both went back to Alexandria, several times, to visit the city and its sunny beaches they once loved.
Raymond loved the sea and was a passionate fisherman and continued this sport in Sao Paulo till almost the end of his life. When living in Alexandria, his only complaint was when, during the summertime, Lisette and 4 of her friends would ride in Raymond's small car (Skoda) to spent the week-end, at the Touring Club, in El Agami Beach : these singing divas didn't stop singing the same song, on and on, of Dean Martin's: " That's Amore"!
Once at El Agami, it was fun doing the "navette" (going and coming) between El Agami, Bianchi & Hanoville. Playing racket-ball, swimming and partying & dancing, at night, under the stars on the music of Nat King Cole, Louis Armstrong, Belafonte and Tony Bennett's famous interpretation of "Stranger in Paradise"! For some reason, the moon was always there illuminating the busy seashore and the gentle waves.
Viviane read the following poem, in prose, in memory of Raymond Levy:
"Remembering Raymond Levy: An Alexandrian"
Remember with me,
An Alexandrian who lived
By the blue Mediterranean Sea.
He once loved with passion
Before passing away,
Far away in a nation
By a tropical ocean,
With exotic seashores.
He found in this new land,
Love, friendship, ambitions,
Nature, the sunny beaches
And fishing expeditions
He had left behind long ago
In Cosmopolitan Alexandria,
By the blue Mediterranean Sea.
Viviane Pescov
Oct 19th, 2013
Marlene (Barki) Lesley first thanked everyone for attending this very friendly and fun dinner. She thanked Liliana Brown & Viviane Pescov for their help. She told us about her interesting childhood & her school days
Liliana (Cohen) Brown (Lycee Francais of Cairo) reported the wonderful getting together meeting with Sandro & Anne-Marie Manzoni in Geneva.
Sandro & Anne-Marie: we all miss you and send you Baccionis until we meet again. Ya Gamaa: It's thanks to Sandro that we all started reuniting.
Joan Vernikos/Hazan (English Girls College) is an Alexadrian who even though she's retired from NASA is still very active, wrote many books on Health; on Ageing & Gravity; a very interesting Newsletter on Health tips and many more... Joan told us about her recent very interesting trips in France and all over Europe. Above all, she related to us very important Health tips. Try to get Joan to email y'all her Newsletter. Many Thanks Joan! Hope Geoffrey will join us next time.
Michele (Hindi) Alexander (Dames de Sion) joined in and we enjoyed hearing about growing up in Alexandria.
Sonia & Rene Mahlouf (Victoria College) were wonderful and charming as usual. They both sounded great when relating the story when they first met and got married. Rene was born in Khartoum (his father was a doctor there).
Eliane Kasteloot: always eloquent talked about the schools she attended: Les Dames de Sion & then Le Lycee Francais d'Alexandrie.
Sheila (Jabes) Tucker: the only Cairene among us admitted liking Alexandria in the summertime.
Simone (Samuel) & Ralph Shofer: Simone who attended The English Girls College talked about her school days.
Elie Pallia: friendly as usual talked about very interesting books on Alexandria(one of the books is written by Albert Pardo. Elie reminisced about the Figs of Alexandria. He promised us figs and fig's seedlings for our next meeting.
Herbert & Jackie (Hirsh) Samuel: both attended Le Lycee Francais and spoke about their youth and settling in the USA and getting married.
Viviane (Maschoieff) Pescov mentioned attending and graduating from the Lycee Francais.
Her husband Irwin was born in NY and attended school in Washington.
These introductions were all laughter and fun. Many jokes or " Noktas" were told. We didn't want to part after a long luncheon which lasted close to 3 hours.
Our Gratitude to Marlene for getting us together, to Eliane for the pics, to Liliana for helping.
A la Prochaine
Reported by Viviane (Maschoieff) Pescov