AAHA = Amicale Alexandrie Hier et Aujourd'hui : www.aaha.ch
* RESEARCH OF ADDRESSES
Yvette Macri's Fancy Dress Party
(11th March 1950)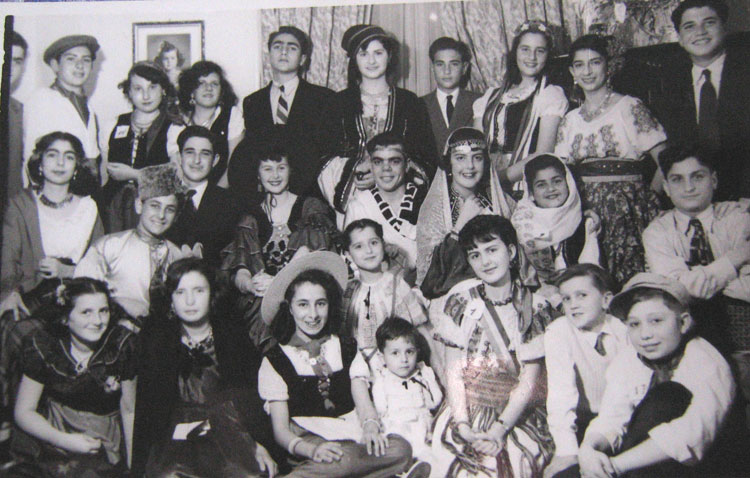 Last row from left to right, including half the young man :
Vahan Hekimian, Claude Stylianoudis, Mary Zoïdis, Mirella Gastaldello, Nany Carpentieri, Marina Stylianoudis, ??, Eva Matheser, Rita Raftopoulo, ??.

Middle row from left to right:
Sylvie Howse-Chahbaz, Reginal (Pussy) Rodozli, unknown, Hilda Marini, Henri Wahba, Katia Stavrou, Lima Fiss, Joe Fiss.

Bottom row from left to right:
Germaine Balian, Lola Teboul, Edna Turner-Anzarut, Marina Strumzi, George Strumzi (the little boy), Yvette Kirbitakis-Macri, Nicks Macri, Byron Argiris.

Hekimian, Marina Stylianoudis, Rita, Katia, George and Byron live in Athens, Greece.
Mary in London UK
Mirella in Melbourne, Australia
Marina (my guess is Marina Strumzi) in Paris, France.


Heavy letters = postal address known; Italic = deceased
Photo submitted by Sylvie Howse-Chahbaz
(please send to Sandro Manzoni the missing names and addresses)
AAHA = Amicale Alexandrie Hier et Aujourd'hui : www.aaha.ch