AAHA = Amicale Alexandrie Hier et Aujourd'hui : www.aaha.ch
* RESEARCH OF ADDRESSES
Sacred Heart School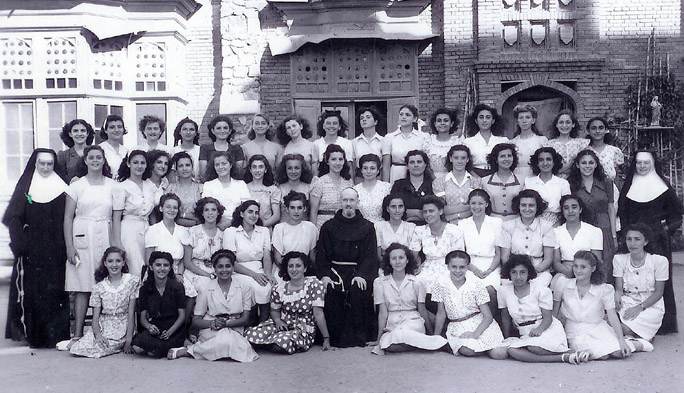 Children of Mary - Ibrahimieh - June 26, 1947
Back Row, from left to right : Patricia Centofanti-Buhagiar, Marcelle Tonel-Asfar, Norma Denny, Lucy Caruana, Mailha Naoum, Evelyn Williams, Mary Abela, ??, Ginette Agius, Marisa Fendredl, Gloria Hancock, Clairette ?, Yvonne Granato-Canaan, Mary ?, Ginette Podesta, Claudette Boutros.
Third Raw, from l > r : Mother Cortona, Lily Devaliny, Jacqueline Relling, Nelda Agius-Tanti, Rosette Dahan, Catherine Cavalli, Andrée Arcache, Hilda Bonnet, Edith Cumbo, Thérèse Asfar, Violet Rossi, Lilian Vella-Eynaud, Marcelle Pavlica-Chactoura, Blanche Yacoub, Gilberte Redding, Sister Mary Adelaide.
Second Raw, from l > r : Nadia Fleri, Norik Zammit, Adeline Hancock (now Sister Marie Louise), Ilka Cassar-Zammit, Father Kevin Mooney, Margaret Di Giorgio, Nicole Cohen, Marie-Louise Gauci, Clairette Caputi-Beneducci, Mary Vella Musumeci.
Front Raw, from l > r : Renata Darminia-Cassar, Genny Caruana, Egbal Wahba, Jacqueline Forti-Sarkis, Aurora Lascaris, Christiane Cassano, Paulette Hobeika, Annie Turner, Ines Inglott
Bold names means that the address is konwn. Italic names means passed away
Photo provided by Ilka Cassar-Zammit. For the legend and addresses see also Nicole Francescutti-Biancardi.
What are the missing addresses of the girls ?
AAHA = Amicale Alexandrie Hier et Aujourd'hui : www.aaha.ch