AAHA = Amicale Alexandrie Hier et Aujourd'hui www.aaha.ch
PHOTOS FROM ALEXANDRIA
El Nasr Boys' School
(ex British Boys' School)
(photo taken in May 2001)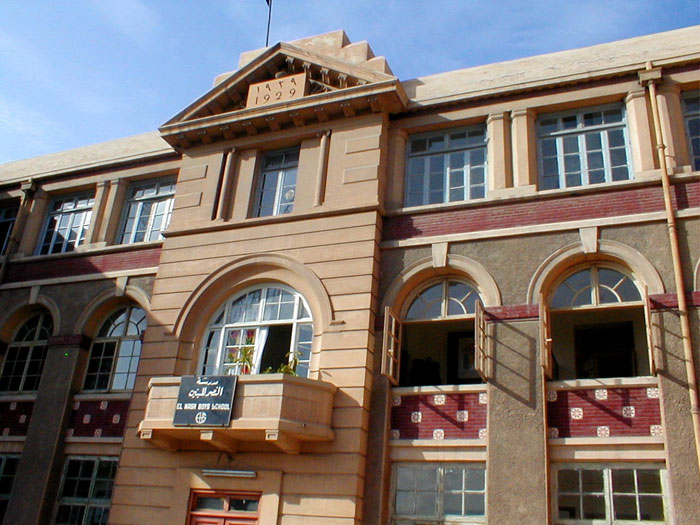 (photo taken in May 2001)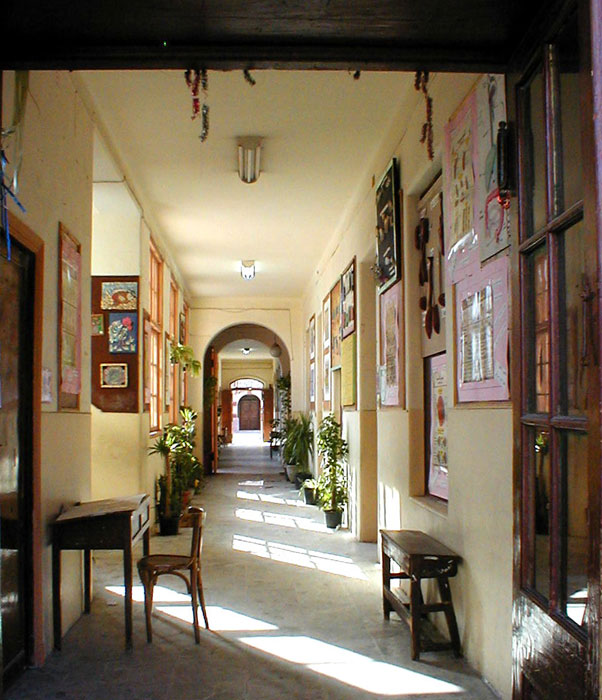 British Boys' School Staff, Alexandria, Egypt 1953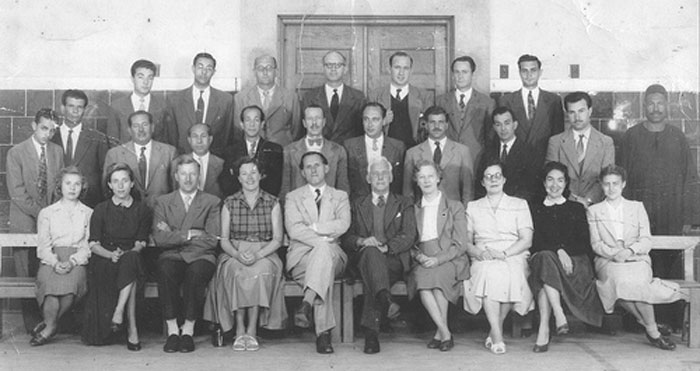 Mr. R. Bruce. Mr. Alan Dale. Mr. Glover. Mr. Porter. Mr. Microni. 2nd row, 6th from l > r : Mr. Henry Hailpern, Mr. Parmaksian. Miss Gertrude Polkowska, Miss May Coates, Mr. Fahmy, Mr. Guirgis, Mr. Harvey, Mr. Helm, Mrs Helm and Moussa,
Photo sent by Celia Male-Cohen.
Henry Hailpern (Sept 16, 1920 - May 11, 2009) first attended the St Andrews Scottish School in Alexandria, from which his older brother Raoul (July 19, 1916 - Feb 9, 2008) was awarded the Dux medal when he graduated: " ... le Directeur de l'Ecole a fait relever que, chose unique dans les annales de la St Andrew's School , Raoul Hailpern a toujours été le 1er pendant les neuf ans qu'il a fréquente l'Ecole" [ La Réforme Illustrée 6/28/31 ]. Also receiving excellent results, Henry finished his studies at Victoria College and then taught at the British Boys' School. Raoul worked at the Barclays Bank until 1956, when he and his wife Fanny and their daughters (Jocelyn & Doris, who both attended le Lycée Français) left for London , where he became vice-president of one of the Barclays' branches. In 1958, they emigrated to Buffalo , N.Y. where Raoul taught Math at the University and became Editorial Director of the Mathematical Association of America. Their sister Lilian Romano (Sept 1923 - Feb 27, 2004) was an accomplished ballerina who taught ballet at the Conservatoire de Musique. Henry, Lilian (and her family) emigrated to London , where they both held teaching jobs.
Apart from their academic achievements, the 3 were artistically inclined. Henry acted and sang in countless plays in Alexandria and in London ; Lilian performed in many concerts and Raoul and Fanny were ballroom champions. After retiring, Henry spent his time painting watercolors (of his trips visiting good friends around the globe) and completed a book (My Alexandrian Days) which his nieces still hope to have published.
One of his British Boys School 's students, Steve Stylianoudis wrote to Celia Male , a good friend of Henry's: "Today was a very sad day - our teacher passed away - the 11th of May will never be forgotten - around 2 pm., I had a very strange feeling which I could not explain. I felt very agitated - could you please find out what time he passed away? For us Greeks a teacher is a very important person in our life, he is like a father to us preparing us and guiding us in life. I owe my success to him - he outlived my father."
Friends and family were Henry's priorities throughout his life; as Celia so well put it: "Henry was a very faithful friend and will be missed by many. He was a quintessential 'Old Alexandrian' and 'Old Victorian'. We shall not see his like again".
By Jocelyne Jackman-Hailpern
British Boys School Staff (1940-1942)
From L > R and from Up > Down : Mr Whitworth (assistant headmaster), Miss Quinn (Quintana), Mr Microni, Mr Fahmi, Mr Charlesworth, Mr Dale, Mr Knausen, Mr Kyan, Mr Thompson (headmaster)
From L > R : Mrs Coates, Gianni (caretaker).
Tennis anyone : from L > R : Mr Whitworth, ?, ?, Mr Stephens, ?, Miss Giles, ?, Mr Kyan
Photos sent by Ray Mamo.
see also : http://www.flickr.com/photos/cam37/sets/72157622061669285/
AAHA = Amicale Alexandrie Hier et Aujourd'hui www.aaha.ch